Home » Action » Berserk: The Golden Age Arc 3 – The Advent
Untuk Memutar Film di Gomuvi.asia, Klik ikon Play pada Pemutar Video hingga Film dimulai, Jika Film masih Buffering, Klik Pause lalu Tunggu selama 1 hingga 5 menit kemudian Klik Play Lagi. Harap Nonaktifkan Extention Adblock Plus dan FixPlay Anda jika Pemutar Video tidak berfungsi untuk Anda, Lalu Refresh (F5) Kembali.

10
(
1
votes, average:
10.00
out of 5)
Loading...
Stream in HD
Download in HD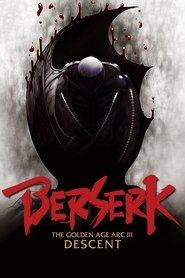 Berserk: The Golden Age Arc 3 – The Advent
Nonton Film Berserk: The Golden Age Arc III – The Advent (2013) subtitle Indonesia ini dirilis pada 1 Februari 2013 di Jepang.
Sinopsis Film Berserk: The Golden Age Arc III – The Advent (2013)
Sekarang sudah setahun setelah Guts berduel Griffith untuk meninggalkan The Band of the Hawk. Setelah mengetahui bahwa Hawks telah dicap sebagai penjahat di Midland, Guts kembali untuk membantu mereka membebaskan Griffith dari Tower of Rebirth. Namun, mereka menemukan bahwa Griffith adalah manusia yang rusak – hampir tidak hidup dan membuat orang lumpuh yang bisu setelah berbulan-bulan mengalami penyiksaan fisik dan mental. Ketika Griffith bersatu kembali dengan Behelit ketika mencoba bunuh diri setelah menyadari apa yang telah direduksi menjadi, gerhana matahari terjadi yang menarik dia, Guts, Casca dan rekan-rekan mereka ke dimensi lain di mana mereka menghadapi archdemons yang dikenal sebagai Tangan Tuhan. Diceritakan bahwa kesengsaraannya telah mengarah ke momen ini, Griffith menerima menjadi anggota terakhir dari Tangan Tuhan untuk mencapai mimpinya sementara mengetahui transisinya mengharuskan sekutu-sekutunya ditawarkan sebagai pengorbanan bermerek.
Jangan lupa nonton film Berserk: The Golden Age Arc II – The Battle for Doldrey (2012)
Dalam peperangan tanpa harapan ini dengan gerombolan raksasa Tangan Tuhan dari para Rasul-mantan manusia seperti upaya Nosferatu Zodd-Guts untuk menyelamatkan Griffith gagal seperti halnya Guts dan Casca yang tersisa ketika Griffith dilahirkan kembali sebagai Femto. Guts dan Casca bersemangat kembali ke dunia mereka oleh Skull Knight yang misterius, tetapi tidak tanpa akibat: Casca kehilangan kewarasannya dari cobaan mimpi buruk yang dia alami karena menyaksikan pembantaian rekannya dan kemudian diperkosa oleh Femto; dan Guts kehilangan lengan bawah kirinya dan mata kanan dalam usahanya untuk memaksa mantan pemimpin mereka darinya. Setelah meninggalkan Casca di bawah perawatan Rickert, mempelajari mereknya akan membuatnya terkena serangan malam oleh berbagai makhluk jatuh yang akan mencari hidupnya, Guts memulai perjalanannya untuk memburu para Rasul dan Tangan Tuhan sehingga dia dapat membunuh Griffith.
Views: 23
Genre: Action, Adventure, Animation, Drama, Fantasy
Director: Toshiyuki Kubooka
Actors: Hiroaki Iwanaga, Minako Kotobuki, Rikiya Koyama, Takahiro Fujiwara, Takahiro Sakurai, Toa Yukinari, Yoshiro Matsumoto
Country: Japan
Duration: 110 min
Quality: HD
Release: 2013